From February 18 to 20, 2020, the annual international conference and exhibition Muni World was held in Tel Aviv, in which more than 800 guests from around the world and more than 9,000 Israelis took part. Among the speakers of the conference were the ministers of the Israeli government, mayors of cities from Israel and other countries, statesmen, as well as heads of international companies.
The Chamber of Commerce and Industry Israel-Ukraine in partnership with the Federation of Local Authorities in Israel and with the support of the Association of Ukrainian Cities was glad to organize the participation of the Ukrainian delegation in this large-scale event. The delegation included representatives of government organizations and local authorities, as well as Ukrainian companies. In total, Muni World was visited by more than 40 representatives from Ukraine.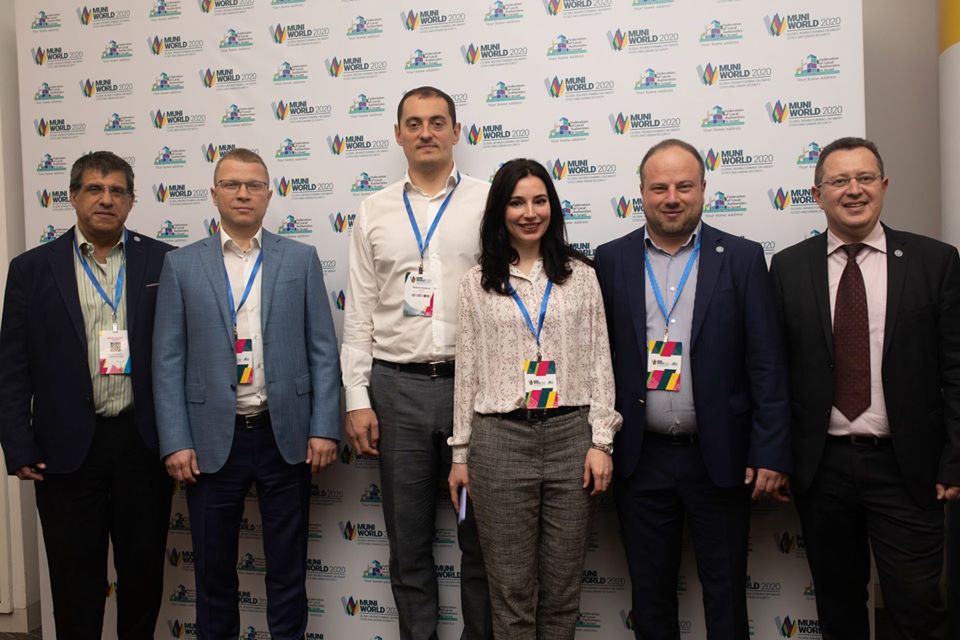 What is Muni World
Muni World is a global discussion on smart cities and urban security. Mayors and senior officials from leading cities in the world meet in Tel Aviv to share their best practices and knowledge. Muni World is organized by the Federation of Local Authorities in Israel.
The three-day 2020 program was dedicated to the innovations of smart cities, strategies for their sustainable development, environmental and transport issues, and urban planning solutions. This year about 10,000 visitors attended Muni World, including about 800 foreign delegates from 72 countries. Among the participants were city mayors and representatives of city authorities, heads of municipalities and councils, ministers, parliamentarians, information service employees, financial directors, urban planning specialists, architects, heads of city development departments, security services officers, executives on education, welfare, sports and culture spheres, business representatives and many others.
For the second year in a row the Chamber of Commerce and Industry Israel-Ukraine has been organizing the arrival of such a significant Ukrainian delegation. Within its framework, Tel Aviv was visited by representatives of the government, city administrations and businesses from Kyiv, Kharkiv, Dnipro, Kryvyi Rih, Chuguev and other cities of Ukraine.
During their visit the participants of the Ukrainian delegation visited the panel discussions of Muni World and Muni Expo exhibition, special excursions in Israeli municipalities and got acquainted with the municipal innovation ecosystem of Israel.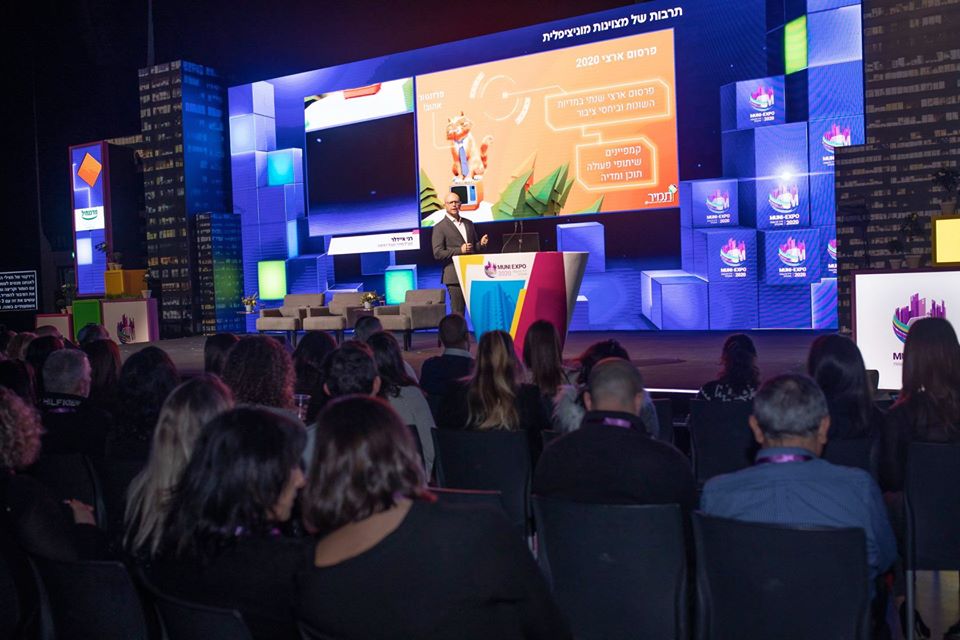 Municipal Innovation Center
As part of a special program for the Ukrainian delegation, a visit to the Municipal Innovation Center in Tel Aviv was organized – the only innovation center in the world specializing in innovations in the municipal sphere. Under the auspices of the Federation of Local Authorities in Israel, this innovation center consolidates startups that develop innovative solutions for local governments. The main activities are innovations in the fields of construction, energy, infrastructure, environment, education and management. The CCI Israel-Ukraine is pleased to assist Ukrainian start-ups in establishing contacts and possible interaction with this unique center of innovation.
Muni Expo and business networking
Muni Expo is a two-day exhibition held as part of Muni World in a 6,000 m2 pavilion. This year, over 170 companies, startups and accelerators working in the field of urban technological development and municipal innovations were represented at the exhibition. The presented companies demonstrated their ideas and ready-made solutions in matters of cybersecurity, transport, infrastructure, construction, design, recycling, ensuring public safety in the city and much more.
Muni Expo has also become a platform for high-quality networking and organization of bilateral meetings. The Chamber of Commerce and Industry Israel-Ukraine organized and facilitated numerous B2B meetings of Ukrainian companies with Muni Expo participants and other target structures and organizations interested in the Israel-Ukraine partnership. The CCI Israel-Ukraine will be happy to facilitate the establishment of business ties between Ukrainian and Israeli companies. We invite companies and organizations interested in developing cooperation in these and other areas to contact the CCI to search for the necessary technological solutions and business partners.
The Chamber of Commerce and Industry Israel-Ukraine is convinced that Muni World is an extremely important platform for strengthening bilateral relations between Israel and Ukraine in the municipal sphere and provides excellent opportunities for deeper interaction between the businesses of our two countries.